Tour Check-in and Departure
The tour will leave from the front (Market St) side of the hotel at 9:00am Monday.
We will have checkin for tour participants open at 7am at the Depot Registration Office just off the Midway until 8:15am. If you would like to pick up your registration packets and tour hat, please come by the Depot Registration Office from 7-8:15am.
Plan to meet in the lobby of the hotel and be ready to get on the bus at 8:40am. Again, we plan to leave at 9am and in order to keep to our time schedule, the buses will depart at 9:00am.
If you have questions, you can call Quentin Rund at 217-841-5107.
Exhibit Hall Move-in
Exhibit hall move in hours are from 1:00pm to 5:00pm on Monday and 8:00am to 11:00am on Tuesday.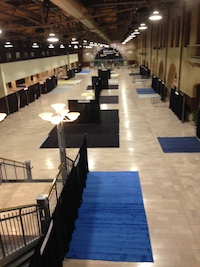 A look at the PrecisionAg Tech Center on Sunday night....the quietest it will be this week!!!
For InfoAg, the exhibit hall essentially acts as another session…in that it is never really empty. Attendees generally feel free to visit with exhibitors throughout the event.
We do, however, have dedicated times for exhibits:
Tuesday:
- after lunch
- 2:50-3:30 break
- 5:30-7:30pm reception
Wednesday:
- 7-8am during breakfast
- 9:50-10:30 morning break
- during/after lunch break
- 2:20-3:00pm afternoon break
- 5-7pm reception
Thursday:
- 7-9am breakfast
Featured Presentation
The use of tablets and smart phone Apps for companies and public institutions is promoted with the goal of increasing product exposure, reaching broad audiences, and improving effectiveness in communicating news, educational materials, and support tools. This session will revise a selection of tablet and smart phone Apps related to crop production, weed, insect, and nutrient management, and general agriculture Apps ("Ag-Apps"). Calculators, ID (identification), field guides, and crop production Apps will be revised. Ag-Apps can assist key stakeholders in the farming decision making process, examples on how to use Apps for making decisions will be provided during this workshop.
I will be working off iPad & iPhone devices, but other Tablets are welcome. Most of the Apps described below are compatible for all iPhone, iPad, and Android.
BRING YOUR SMARTPHONE OR TABLET!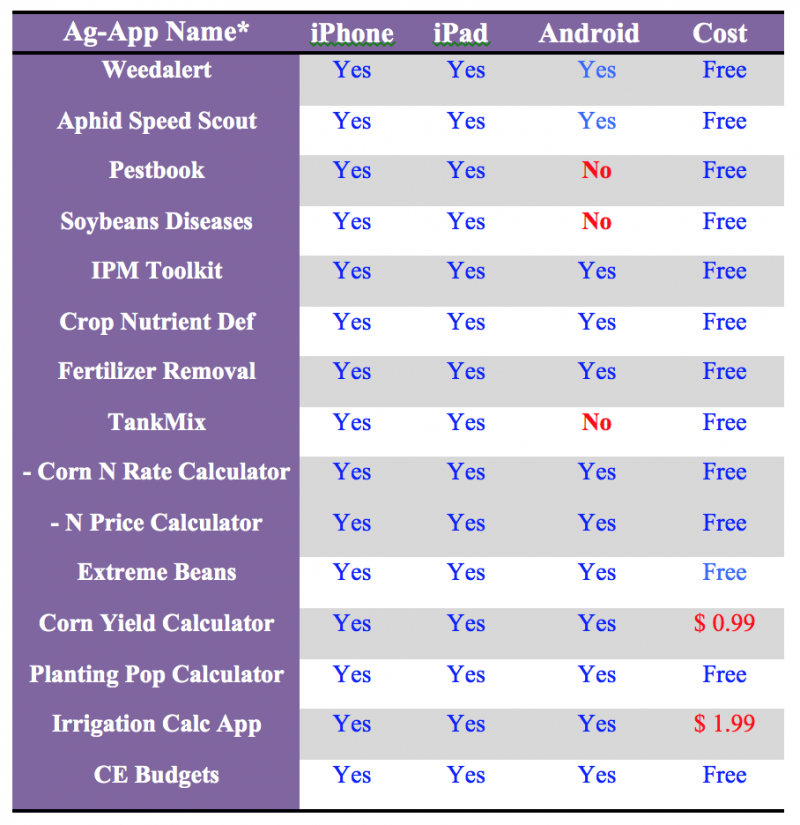 The final list of Apps introduced in this workshop could be subjected to change.
July 29, 2014 01:00pm - Wksp: Hands-on Ag Apps (Hands-on Workshops in Midway Suites)
July 29, 2014 02:00pm - Wksp: Ag Apps (continued) (Hands-on Workshops in Midway Suites)
Featured Exhibitor

Midwest Laboratories
Midwest Laboratories is a leader in the area of information technology. Midwest Laboratories works with companies across different industries with respect to sending and receiving laboratory information. From smart phones to networks, the Midwest Laboratories staff are always working with the latest technology vendors to insure that data can be communicated and sent in a number of different formats to insure proper data quality. Please stop by our booth and learn more about the capabilities that can assist you and your clients.
Twitter
Join Us for InfoAg 2014
InfoAg 2013 was a terrific success. Over 1100 participants shared in presentations on a wide range of topics on technology applications and data management and interpretation. As with previous InfoAg Conferences, the networking among participants was again a highlight of the experience. New relationships formed at InfoAg will lead to greater benefits and opportunities for those involved. Ideas exchanged in the hallways and the exhibit hall will form the basis for the new deliverables at the next conference. Those who took advantage of the Pre-Conference Tour on Monday picked up some additional first-hand knowledge and interactions.
We have had some excellent suggestions for speakers over the years. From hi-tech innovators giving us a glimpse of what is to come to producers putting all the gear and ideas to work in crop production, InfoAg is an event to stimulate the gray matter. Help shape the program for InfoAg 2014 by
suggesting a speaker or topic
.
Make it a precision ag summer! Make plans to attend the
12th International Conference on Precision Agriculture, July 20-23, 2014 at the Hyatt Regency Sacramento, California
. See the
program online and register
by June 20 at the early bird rate. There are just a few exhibit booths still available, if you would like to exhibit please contact
exhibits@ispag.org
.

The 12th International Conference on Precision Agriculture is the gathering place for the world's best and brightest researchers and agribusiness innovators. A look back at past programs is like looking at a who's who in precision ag today. Over 200 research presentations will cover the application of new technologies as well as the theoretical studies that introduce us to the technologies of the future. An A to Z track focuses on practical application of technologies and presentations by leading precision ag vendors. The conference boasts an international exhibit hall and plenty of opportunity to network with representatives from over 40 countries. It's the cheapest round the world tour of precision ag available in 2014.