Featured Exhibitor
Booth number : 17
GVM Inc. is proud to part of an industry that is vital to the sustainability of our nation. We hold a great amount of respect for our suppliers and even more for the many hard-working Americans that provide our food, shelter and fuels. We value our suppliers and customers as partners and we are committed to their success. We believe in honesty and transparency; we want to be a company you can trust. We believe that what we say matters, and we stand behind the promises that we make. We work together, we work as a team, and we respect each other. We believe that every member of the team plays a vital role in our success. Our biggest asset and competitive advantage is our people, and our success is because of our people. Our people care; they care about our business and your business and about personal excellence in everything they do. We find our success not in managers, but in leaders. We rely on everyone within our organization to be a leader. We believe that leaders initiate action, motivation and confidence, while building morale. Leaders understand the importance of our other core values, including mutual respect, honesty and people/teamwork.
PrecisionAg Tech Center
Click on the image below to open the InfoAg 2016 Heritage Exhibitor Kit:
(Please note, information about ordering electricing and internet for Booths can be found on pages 29 and 30)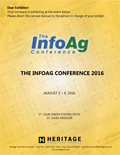 Monday, August 1
1:00-5:00pm Setup
Tuesday, August 2
8:00-12:00 Setup
12:00-7:30pm Open
11:40-1:00 Lunch
3:00-3:40pm Break
5:40-7:40pm Reception
Wednesday, August 3
7:00-8:00 Breakfast
8:00-7:30pm Open
10:00-10:40 Break
12:00-1:20pm Lunch
3:20-4:00pm Break
5:20-7:00pm Reception
Thursday, August 4
7:00-9:00am Breakfast
9:00-12:00pm Teardown
Are you interested in becoming a Sponsor?
The International Plant Nutrition Institute has developed an outstanding conference that will attract companies and clients throughout the world. We would like to invite your company to join the team as a sponsor for InfoAg.
For information about becoming an InfoAg sponsor, please see the
Sponsors
section.