Featured Exhibitor
Booth number : 5
CustomWeather delivers industry-leading weather intelligence to help clients make critical business decisions. CustomWeather stands out in an industry where most weather providers only supply the weather data. Powered by proprietary global forecasting technology, CustomWeather offers analytics and intelligence to give customers the "so what" of weather data as it pertains to their operations or business. CustomWeather is a premier source for all things weather in agriculture, ranging from running analytics to help growers maximize their yields, to setting up custom weather alerts to notify a grower of optimum conditions for spraying.
PrecisionAg Tech Center
Click on the image below to open the InfoAg 2016 Heritage Exhibitor Kit:
(Please note, information about ordering electricing and internet for Booths can be found on pages 29 and 30)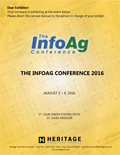 Monday, August 1
1:00-5:00pm Setup
Tuesday, August 2
8:00-12:00 Setup
12:00-7:30pm Open
11:40-1:00 Lunch
3:00-3:40pm Break
5:40-7:40pm Reception
Wednesday, August 3
7:00-8:00 Breakfast
8:00-7:30pm Open
10:00-10:40 Break
12:00-1:20pm Lunch
3:20-4:00pm Break
5:20-7:00pm Reception
Thursday, August 4
7:00-9:00am Breakfast
9:00-12:00pm Teardown
Are you interested in becoming a Sponsor?
The International Plant Nutrition Institute has developed an outstanding conference that will attract companies and clients throughout the world. We would like to invite your company to join the team as a sponsor for InfoAg.
For information about becoming an InfoAg sponsor, please see the
Sponsors
section.