Featured Exhibitor
Booth number : 154
Back 40 Precision is a software and hardware design firm offering in house manufacturing & the best RTK Caster in the world, guaranteed. We welcome side by side field trials! Our innovative caster offers Deere correction from any brand base station. We're compatible with all equipment brands , harnessing a network based solution that eclipses VBN in accuracy and reliability. With a proprietary algorithm, 3rd order term calculations and 3 sigma base stations we are unmatched in quality. Additionally, our iOS/Android RTKonnect NTRIP client device, a modem alternative, is the only proven compatible with all brands and models of precision equipment. There are limited options for cost effective precision set ups and even less availability of accurate service signals. Being a relatively new field, there are very few industry experts. At Back 40 Precision there is a balance between modern technology and good old fashioned values. We farm and personally understand your unique needs. You aren't just a number or customer. You are a friend and neighbor.
PrecisionAg Tech Center
Click on the image below to open the InfoAg 2016 Heritage Exhibitor Kit:
(Please note, information about ordering electricing and internet for Booths can be found on pages 29 and 30)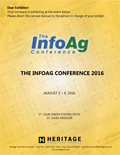 Monday, August 1
1:00-5:00pm Setup
Tuesday, August 2
8:00-12:00 Setup
12:00-7:30pm Open
11:40-1:00 Lunch
3:00-3:40pm Break
5:40-7:40pm Reception
Wednesday, August 3
7:00-8:00 Breakfast
8:00-7:30pm Open
10:00-10:40 Break
12:00-1:20pm Lunch
3:20-4:00pm Break
5:20-7:00pm Reception
Thursday, August 4
7:00-9:00am Breakfast
9:00-12:00pm Teardown
Are you interested in becoming a Sponsor?
The International Plant Nutrition Institute has developed an outstanding conference that will attract companies and clients throughout the world. We would like to invite your company to join the team as a sponsor for InfoAg.
For information about becoming an InfoAg sponsor, please see the
Sponsors
section.