Featured Exhibitor
Booth number : 8
Harris Geospatial provides software solutions to help crop consultants, farmers, academics and government workers extract information and solve problems using geospatial data. Our advanced ENVI analytics enable growers, processors, and farm input providers to target specific areas of crops that need attention to significantly enhance their overall yield. The ENVI Precision Agriculture Toolkit is used for applications such as field hot spot detection, plant and tree counting, and data preprocessing such as atmospheric correction and georegistration to existing GIS data. And, our new ENVI OneButton helps users utilize agricultural UAS data to enable better decisions.
PrecisionAg Tech Center
Click on the image below to open the InfoAg 2016 Heritage Exhibitor Kit:
(Please note, information about ordering electricing and internet for Booths can be found on pages 29 and 30)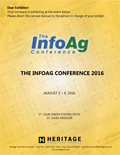 Monday, August 1
1:00-5:00pm Setup
Tuesday, August 2
8:00-12:00 Setup
12:00-7:30pm Open
11:40-1:00 Lunch
3:00-3:40pm Break
5:40-7:40pm Reception
Wednesday, August 3
7:00-8:00 Breakfast
8:00-7:30pm Open
10:00-10:40 Break
12:00-1:20pm Lunch
3:20-4:00pm Break
5:20-7:00pm Reception
Thursday, August 4
7:00-9:00am Breakfast
9:00-12:00pm Teardown
Are you interested in becoming a Sponsor?
The International Plant Nutrition Institute has developed an outstanding conference that will attract companies and clients throughout the world. We would like to invite your company to join the team as a sponsor for InfoAg.
For information about becoming an InfoAg sponsor, please see the
Sponsors
section.