Featured Exhibitor
Booth number : 102
SOILMAP Desktop is a web application designed to process the data and information gathered through soil sampling of your fields. The software is then used by the SOILMAP team and your agronomists to determine fertilizer recommendations. Additionally, SOILMAP software allows you to plan (chemicals, fertilizers, seed), create cost comparisons, acquire history reports and determine blendsheets. Other capabilities include soil-type books, seed population maps and farm maps. We are currently integrated with a number of accounting programs to facilitate greater accuracy and efficiency with the accounting program you utilize. We are also integrated with Murray and Kahler automated blenders. With SOILMAP software, you're able to gain valuable insight into the needs and capabilities of your fields that will, in turn, assist you in making the best possible management decisions in the effort to maximize your return on investment.
PrecisionAg Tech Center
Click on the image below to open the InfoAg 2016 Heritage Exhibitor Kit:
(Please note, information about ordering electricing and internet for Booths can be found on pages 29 and 30)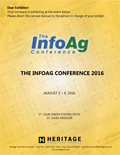 Monday, August 1
1:00-5:00pm Setup
Tuesday, August 2
8:00-12:00 Setup
12:00-7:30pm Open
11:40-1:00 Lunch
3:00-3:40pm Break
5:40-7:40pm Reception
Wednesday, August 3
7:00-8:00 Breakfast
8:00-7:30pm Open
10:00-10:40 Break
12:00-1:20pm Lunch
3:20-4:00pm Break
5:20-7:00pm Reception
Thursday, August 4
7:00-9:00am Breakfast
9:00-12:00pm Teardown
Are you interested in becoming a Sponsor?
The International Plant Nutrition Institute has developed an outstanding conference that will attract companies and clients throughout the world. We would like to invite your company to join the team as a sponsor for InfoAg.
For information about becoming an InfoAg sponsor, please see the
Sponsors
section.