Featured Exhibitor
Booth number : 134
PAQ Interactive is a technology services company specializing in Web and GIS solutions. Our web design and development work focuses on the web as a communication tool. More than static pages, we assist our clients through the design of interactive, content rich, fully customizable web sites that allow our clients to use their web technology investment for internal and external communications. In GIS services, PAQ consults with clients in creating and maintaining a business-level GIS. We provide training, custom programming, data analysis, and GIS project management solutions to create or expand on our clients initial investment in GIS. PAQ helps leverage your technology investment to increase productivity and maximize the benefits technology can bring.
PrecisionAg Tech Center
Click on the image below to open the InfoAg 2016 Heritage Exhibitor Kit:
(Please note, information about ordering electricing and internet for Booths can be found on pages 29 and 30)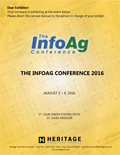 Monday, August 1
1:00-5:00pm Setup
Tuesday, August 2
8:00-12:00 Setup
12:00-7:30pm Open
11:40-1:00 Lunch
3:00-3:40pm Break
5:40-7:40pm Reception
Wednesday, August 3
7:00-8:00 Breakfast
8:00-7:30pm Open
10:00-10:40 Break
12:00-1:20pm Lunch
3:20-4:00pm Break
5:20-7:00pm Reception
Thursday, August 4
7:00-9:00am Breakfast
9:00-12:00pm Teardown
Are you interested in becoming a Sponsor?
The International Plant Nutrition Institute has developed an outstanding conference that will attract companies and clients throughout the world. We would like to invite your company to join the team as a sponsor for InfoAg.
For information about becoming an InfoAg sponsor, please see the
Sponsors
section.