Featured Exhibitor
Booth number : 29
SGS is the world's leading inspection, verification, testing and certification company. We are recognized as the global benchmark for quality and integrity. With more than 80,000 employees, we operate a network of more than 1,650 offices and laboratories around the world.
Our core services can be divided into four categories:
Inspection: our comprehensive range of world-leading inspection and verification services, such as checking the condition and weight of traded goods at transshipment, help you to control quantity and quality, and meet all relevant regulatory requirements across different regions and markets
Testing: our global network of testing facilities, staffed by knowledgeable and experienced personnel, enable you to reduce risks, shorten time to market and test the quality, safety and performance of your products against relevant health, safety and regulatory standards
Certification: we enable you to demonstrate that your products, processes, systems or services are compliant with either national or international standards and regulations or customer defined standards, through certification
Verification: we ensure that products and services comply with global standards and local regulations. Combining global coverage with local knowledge, unrivalled experience and expertise in virtually every industry, SGS covers the entire supply chain from raw materials to final consumption.
We are constantly looking beyond customers' and society's expectations in order to deliver market leading services wherever they are needed. As the leader in providing specialized business solutions that improve quality, safety and productivity and reduce risk, we help customers navigate an increasingly regulated world. Our independent services add significant value to our customers' operations and ensure business sustainability.
PrecisionAg Tech Center
Click on the image below to open the InfoAg 2016 Heritage Exhibitor Kit:
(Please note, information about ordering electricing and internet for Booths can be found on pages 29 and 30)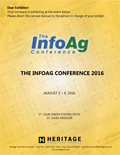 Monday, August 1
1:00-5:00pm Setup
Tuesday, August 2
8:00-12:00 Setup
12:00-7:30pm Open
11:40-1:00 Lunch
3:00-3:40pm Break
5:40-7:40pm Reception
Wednesday, August 3
7:00-8:00 Breakfast
8:00-7:30pm Open
10:00-10:40 Break
12:00-1:20pm Lunch
3:20-4:00pm Break
5:20-7:00pm Reception
Thursday, August 4
7:00-9:00am Breakfast
9:00-12:00pm Teardown
Are you interested in becoming a Sponsor?
The International Plant Nutrition Institute has developed an outstanding conference that will attract companies and clients throughout the world. We would like to invite your company to join the team as a sponsor for InfoAg.
For information about becoming an InfoAg sponsor, please see the
Sponsors
section.