Featured Exhibitor
Booth number : 150
AGBRIDGE is a revolutionary mobile app that enables simple, affordable data transfer between Ag Controllers operating in the field and the computers of Growers and their trusted advisors. Unlike other systems in the market, AGBRIDGE works with most any brand of controller and utilizes the user's existing smartphone (or tablet) service. Transport as-applied data, boundary files, prescriptions, and more between the field and office. Easily port A-B lines from one machine to another without leaving the field. All of this with a simple key stroke while maintaining secure back up of configuration files, spray records, application data, yield data, and much more. At a fraction of the cost of competing solutions, AGBRIDGE is a data transfer solution that provides Ag retailers with an inexpensive data bridge between their office network, the application equipment they operate, and the customers they serve. For consultants, AGBRIDGE enables continuous remote access to their customer's data and equipment. And for growers, AGBRIDGE provides secure data storage, efficient connection to their trusted advisors, and the opportunity to unlock the power of precision data. Come by and experience the simplicity and power of AGBRIDGE.
PrecisionAg Tech Center
Click on the image below to open the InfoAg 2016 Heritage Exhibitor Kit:
(Please note, information about ordering electricing and internet for Booths can be found on pages 29 and 30)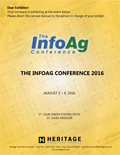 Monday, August 1
1:00-5:00pm Setup
Tuesday, August 2
8:00-12:00 Setup
12:00-7:30pm Open
11:40-1:00 Lunch
3:00-3:40pm Break
5:40-7:40pm Reception
Wednesday, August 3
7:00-8:00 Breakfast
8:00-7:30pm Open
10:00-10:40 Break
12:00-1:20pm Lunch
3:20-4:00pm Break
5:20-7:00pm Reception
Thursday, August 4
7:00-9:00am Breakfast
9:00-12:00pm Teardown
Are you interested in becoming a Sponsor?
The International Plant Nutrition Institute has developed an outstanding conference that will attract companies and clients throughout the world. We would like to invite your company to join the team as a sponsor for InfoAg.
For information about becoming an InfoAg sponsor, please see the
Sponsors
section.