Featured Exhibitor
Booth number : 104, 105, 106, 107, 108
John Deere has had a significant impact in the precision Ag space, with proven solutions ranging from automated guidance to section control and more- solutions that connect people, equipment, technology and insights to increase a grower's bottom line. The John Deere Operations Center is a key part of our latest suite of precision Ag products being developed. It is an online set of tools that enable growers to see what is happening on their operation, learning from their performance over time. These tools also enable the grower to collaborate with the right people to optimize yield and maximize profits and direct their plans in the field, easily adjusting as conditions change. Utilizing our robust API, you can gain adoption by connecting your own product with the Operations Center to give our shared customers a more powerful way to analyze and draw insights from their data using a single platform.
PrecisionAg Tech Center
Click on the image below to open the InfoAg 2016 Heritage Exhibitor Kit:
(Please note, information about ordering electricing and internet for Booths can be found on pages 29 and 30)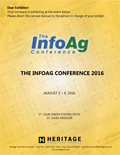 Monday, August 1
1:00-5:00pm Setup
Tuesday, August 2
8:00-12:00 Setup
12:00-7:30pm Open
11:40-1:00 Lunch
3:00-3:40pm Break
5:40-7:40pm Reception
Wednesday, August 3
7:00-8:00 Breakfast
8:00-7:30pm Open
10:00-10:40 Break
12:00-1:20pm Lunch
3:20-4:00pm Break
5:20-7:00pm Reception
Thursday, August 4
7:00-9:00am Breakfast
9:00-12:00pm Teardown
Are you interested in becoming a Sponsor?
The International Plant Nutrition Institute has developed an outstanding conference that will attract companies and clients throughout the world. We would like to invite your company to join the team as a sponsor for InfoAg.
For information about becoming an InfoAg sponsor, please see the
Sponsors
section.