Featured Exhibitor
Booth number : 15
Measure is the world's leading Drone as a Service company, providing turnkey, cost-effective, and actionable aerial data solutions to customers nationwide. Leveraging decades of experience in agriculture and aviation, we allow individuals and organizations to tap into the benefits of drones without the large upfront investments and guarantee safe, legal and insured operations. Better management starts with better data. The aerial information that we capture with our drones allows crop advisers to make more accurate prescriptions, assist farmers in making management decisions, and crop insurers to more accurately and efficiently assess damage claims.
PrecisionAg Tech Center
Click on the image below to open the InfoAg 2016 Heritage Exhibitor Kit:
(Please note, information about ordering electricing and internet for Booths can be found on pages 29 and 30)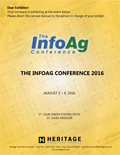 Monday, August 1
12:00-5:00pm Setup
Tuesday, August 2
8:00-12:00 Setup
12:00-7:30pm Open
11:40-1:00 Lunch
3:00-3:40pm Break
5:40-7:40pm Reception
Wednesday, August 3
7:00-8:00 Breakfast
8:00-7:30pm Open
10:00-10:40 Break
12:00-1:20pm Lunch
3:20-4:00pm Break
5:20-7:00pm Reception
Thursday, August 4
7:00-9:00am Breakfast
9:00-12:00pm Teardown
Are you interested in becoming a Sponsor?
The International Plant Nutrition Institute has developed an outstanding conference that will attract companies and clients throughout the world. We would like to invite your company to join the team as a sponsor for InfoAg.
For information about becoming an InfoAg sponsor, please see the
Sponsors
section.