Featured Exhibitor
Booth number : 135
Located in the San Francisco Bay Area, Davis Instruments has been leading the development of precision weather instruments since 1963. Davis products are high-quality and affordable. Davis helps farmers increase crop yield by providing real-time weather conditions from the farm. With products such as GroWeather, farmers can solve some key problems before they happen. Farmers can use this data to predict conditions that cause frost damage, pinpoint irrigation needs based on soil moisture & evapotranspiration, predict pest risks, forecast harvest days and track chilling hours. For more information about Davis Instruments and all of the Davis products visit www.davisnet.com.
PrecisionAg Tech Center
Click on the image below to open the InfoAg 2016 Heritage Exhibitor Kit:
(Please note, information about ordering electricing and internet for Booths can be found on pages 29 and 30)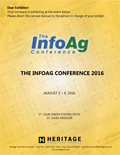 Monday, August 1
1:00-5:00pm Setup
Tuesday, August 2
8:00-12:00 Setup
12:00-7:30pm Open
11:40-1:00 Lunch
3:00-3:40pm Break
5:40-7:40pm Reception
Wednesday, August 3
7:00-8:00 Breakfast
8:00-7:30pm Open
10:00-10:40 Break
12:00-1:20pm Lunch
3:20-4:00pm Break
5:20-7:00pm Reception
Thursday, August 4
7:00-9:00am Breakfast
9:00-12:00pm Teardown
Are you interested in becoming a Sponsor?
The International Plant Nutrition Institute has developed an outstanding conference that will attract companies and clients throughout the world. We would like to invite your company to join the team as a sponsor for InfoAg.
For information about becoming an InfoAg sponsor, please see the
Sponsors
section.