Featured Exhibitor
Booth number : 44
With over fifteen years of experience, NORAC is a pioneer with ultrasonic technology in agriculture. NORAC offers three Spray Height Control systems that can be installed on most sprayer models; the UC4+™ and UC4.5™ come complete with a stand-alone control panel and the UC5™ is an ISOBUS system that can be operated through a variety of existing control panels. NORAC?s Spray Height Control systems use ultrasonic sensors mounted on the left, right and center sections of the boom to monitor field terrain and make responsive boom height adjustments. With NORAC Spray Height Control systems, the boom automatically follows the contours of the land and maintains a preset height above the ground or the top of the crop allowing more effective chemical use and stress free spraying for the operator. Hybrid Mode™, the new advanced crop sensing feature for in-crop spraying, eliminates the need for the operator to take manual control of the boom while spraying in row crops or adverse situations such as lodged, thin and uneven crop. Together with Soil Mode™ and Crop Mode™, NORAC provides the boom stability and spray height accuracy you can trust in all field conditions. Guaranteed.
PrecisionAg Tech Center
Click on the image below to open the InfoAg 2016 Heritage Exhibitor Kit:
(Please note, information about ordering electricing and internet for Booths can be found on pages 29 and 30)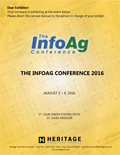 Monday, August 1
1:00-5:00pm Setup
Tuesday, August 2
8:00-12:00 Setup
12:00-7:30pm Open
11:40-1:00 Lunch
3:00-3:40pm Break
5:40-7:40pm Reception
Wednesday, August 3
7:00-8:00 Breakfast
8:00-7:30pm Open
10:00-10:40 Break
12:00-1:20pm Lunch
3:20-4:00pm Break
5:20-7:00pm Reception
Thursday, August 4
7:00-9:00am Breakfast
9:00-12:00pm Teardown
Are you interested in becoming a Sponsor?
The International Plant Nutrition Institute has developed an outstanding conference that will attract companies and clients throughout the world. We would like to invite your company to join the team as a sponsor for InfoAg.
For information about becoming an InfoAg sponsor, please see the
Sponsors
section.