Featured Exhibitor
Booth number : 1, 2
ScoutPro brings you the latest in accurate, efficient, identification of weeds, insects, diseases, and disorders. Use our drill down identification, or quickly sort favorites and searches within our applications for corn, soybeans, and wheat. Record your path through a field via GPS pins while adding stand counts, performing yield checks, and even recording irrigation activities. Our applications collect the data, you manage the data through the ScoutPro webservice for a complete scouting program. Flexible for every type of scout and every scouting program, our software is designed to provide you and your clients consistent, field specific, scouting data.
PrecisionAg Tech Center
Click on the image below to open the InfoAg 2016 Heritage Exhibitor Kit:
(Please note, information about ordering electricing and internet for Booths can be found on pages 29 and 30)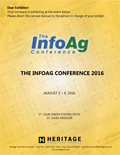 Monday, August 1
1:00-5:00pm Setup
Tuesday, August 2
8:00-12:00 Setup
12:00-7:30pm Open
11:40-1:00 Lunch
3:00-3:40pm Break
5:40-7:40pm Reception
Wednesday, August 3
7:00-8:00 Breakfast
8:00-7:30pm Open
10:00-10:40 Break
12:00-1:20pm Lunch
3:20-4:00pm Break
5:20-7:00pm Reception
Thursday, August 4
7:00-9:00am Breakfast
9:00-12:00pm Teardown
Are you interested in becoming a Sponsor?
The International Plant Nutrition Institute has developed an outstanding conference that will attract companies and clients throughout the world. We would like to invite your company to join the team as a sponsor for InfoAg.
For information about becoming an InfoAg sponsor, please see the
Sponsors
section.