Featured Exhibitor
Booth number : 72, 73, 76, 77
The PrecisionAg Institute was developed in 2006 as an independent global forum dedicated to the sharing of precision agriculture practices, ideas, research, products, services and success stories. Through advocacy, education and research, the Institute intends to advance precision technology and its efficiency, stewardship and profitability on farms around the world through a variety of integrated media offerings: Grower research www.precisionag.com/institute PrecisionAg eNews PrecisionAg Award of Excellence PrecisionAg Live Forums and Events Educational promotion The Institute is managed by the Agribusiness Group of Meister Media Worldwide. The staff has been instrumental in knowledge transfer to the benefit of precision agriculture even as the practice began to be formalized in the early 1990s. First through Farm Chemicals and Dealer PROGRESS magazines, then through PrecisionAg.com, the PrecisionAg Buyer's Guide, PrecisionAg Special Reports, CropLife and other outlets, the group has been a steady advocate of the technology and its benefits to growers and practitioners.
PrecisionAg Tech Center
Click on the image below to open the InfoAg 2016 Heritage Exhibitor Kit:
(Please note, information about ordering electricing and internet for Booths can be found on pages 29 and 30)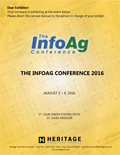 Monday, August 1
1:00-5:00pm Setup
Tuesday, August 2
8:00-12:00 Setup
12:00-7:30pm Open
11:40-1:00 Lunch
3:00-3:40pm Break
5:40-7:40pm Reception
Wednesday, August 3
7:00-8:00 Breakfast
8:00-7:30pm Open
10:00-10:40 Break
12:00-1:20pm Lunch
3:20-4:00pm Break
5:20-7:00pm Reception
Thursday, August 4
7:00-9:00am Breakfast
9:00-12:00pm Teardown
Are you interested in becoming a Sponsor?
The International Plant Nutrition Institute has developed an outstanding conference that will attract companies and clients throughout the world. We would like to invite your company to join the team as a sponsor for InfoAg.
For information about becoming an InfoAg sponsor, please see the
Sponsors
section.