Featured Exhibitor
Booth number : 100, 101
At FarmLogic, we design management tools for the agricultural service provider and retailer. Our family of Service Provider products include FarmLogic SP, Soil Test Pro SP, and Scout SP. FarmLogic SP: FarmLogic SP is designed for businesses and people that provide services to the farm. Manage your customer activities from the office or the field; your information is available when and where you need it. FarmLogic SP is a central location that keeps your farm service records organized for multiple clients. Achieve unparalleled connectivity with your customers using FarmLogic SP. Customers that own a FarmLogic system, can link together with you (with permission) for seamless communication. It's like Auto Steer for your information system. Soil Test Pro SP: Manage your soil sampling operation in the office on your Web Headquarters and in the field on your Mobile App. Pull GPS referenced soil samples, choose a lab from our recommended list, then ship your samples. Get Lab results fast (5-7 days). Share results with your clients and build unlimited recommendations & controller files. It's also Raven Slingshot ready. Other key features of Soil Test Pro SP include: creating work orders for your employees and the Navigate to Field function which gets you to the right location every time.
PrecisionAg Tech Center
Click on the image below to open the InfoAg 2016 Heritage Exhibitor Kit:
(Please note, information about ordering electricing and internet for Booths can be found on pages 29 and 30)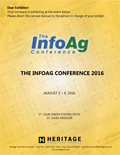 Monday, August 1
1:00-5:00pm Setup
Tuesday, August 2
8:00-12:00 Setup
12:00-7:30pm Open
11:40-1:00 Lunch
3:00-3:40pm Break
5:40-7:40pm Reception
Wednesday, August 3
7:00-8:00 Breakfast
8:00-7:30pm Open
10:00-10:40 Break
12:00-1:20pm Lunch
3:20-4:00pm Break
5:20-7:00pm Reception
Thursday, August 4
7:00-9:00am Breakfast
9:00-12:00pm Teardown
Are you interested in becoming a Sponsor?
The International Plant Nutrition Institute has developed an outstanding conference that will attract companies and clients throughout the world. We would like to invite your company to join the team as a sponsor for InfoAg.
For information about becoming an InfoAg sponsor, please see the
Sponsors
section.