Featured Exhibitor
Booth number : 121, 122, 123, 124
Since 1978, Raven has helped define the concept of precision agriculture—and continues to create ground-breaking ideas and products that improve the position of growers around the world. Raven is publicly traded on NASDAQ (RAVN) and has earned an international reputation for agricultural innovation, product reliability and unmatched service and support. From field computers to boom controls, from GPS guidance to steering systems, Raven is leading the way for precision ag technology that delivers in the field. In partnership with our network of Raven dealers and distributors, we're helping growers of all sizes and all types work smarter, reduce input costs and increase yields and profitability. Success in farming has always been about using less and getting more. With Raven, you can simply do it better.
PrecisionAg Tech Center
Click on the image below to open the InfoAg 2016 Heritage Exhibitor Kit:
(Please note, information about ordering electricing and internet for Booths can be found on pages 29 and 30)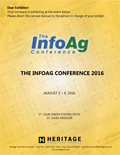 Monday, August 1
1:00-5:00pm Setup
Tuesday, August 2
8:00-12:00 Setup
12:00-7:30pm Open
11:40-1:00 Lunch
3:00-3:40pm Break
5:40-7:40pm Reception
Wednesday, August 3
7:00-8:00 Breakfast
8:00-7:30pm Open
10:00-10:40 Break
12:00-1:20pm Lunch
3:20-4:00pm Break
5:20-7:00pm Reception
Thursday, August 4
7:00-9:00am Breakfast
9:00-12:00pm Teardown
Are you interested in becoming a Sponsor?
The International Plant Nutrition Institute has developed an outstanding conference that will attract companies and clients throughout the world. We would like to invite your company to join the team as a sponsor for InfoAg.
For information about becoming an InfoAg sponsor, please see the
Sponsors
section.