Featured Exhibitor
Booth number : 78, 83
Praxidyn is our manufacturing company and Mixmate is our first product. Mixmate is a portable chemical blending system with automated recordkeeping. Our system is modular and can be configured to your needs. A basic system is able to log data from a scale or flowmeter to a fully automated system. Automation and recordkeeping can be added to existing manual systems. We offer a complete solution to add efficiency in the field and the office. Intersect is our cloud-based connection from the field to the office and third party software systems. Data is synchronized automatically. Work orders, blends, and reporting happen in minutes. Mixmate and Intersect are optimized to be fast and easy. We have solutions for your manual or automatic mixing of chemicals and more, such as dry fertilizer and seed treatments. Mixmate... mixing and records streamlined.
PrecisionAg Tech Center
Click on the image below to open the InfoAg 2016 Heritage Exhibitor Kit:
(Please note, information about ordering electricing and internet for Booths can be found on pages 29 and 30)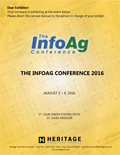 Monday, August 1
1:00-5:00pm Setup
Tuesday, August 2
8:00-12:00 Setup
12:00-7:30pm Open
11:40-1:00 Lunch
3:00-3:40pm Break
5:40-7:40pm Reception
Wednesday, August 3
7:00-8:00 Breakfast
8:00-7:30pm Open
10:00-10:40 Break
12:00-1:20pm Lunch
3:20-4:00pm Break
5:20-7:00pm Reception
Thursday, August 4
7:00-9:00am Breakfast
9:00-12:00pm Teardown
Are you interested in becoming a Sponsor?
The International Plant Nutrition Institute has developed an outstanding conference that will attract companies and clients throughout the world. We would like to invite your company to join the team as a sponsor for InfoAg.
For information about becoming an InfoAg sponsor, please see the
Sponsors
section.